Find a Passport Renewal Office In Your City and State
There are thousands of locations across the country where you can submit your paperwork for a passport renewal. Some locations are official passport agencies while others are application acceptance facilities.
Click on your state to see the nearest location to you.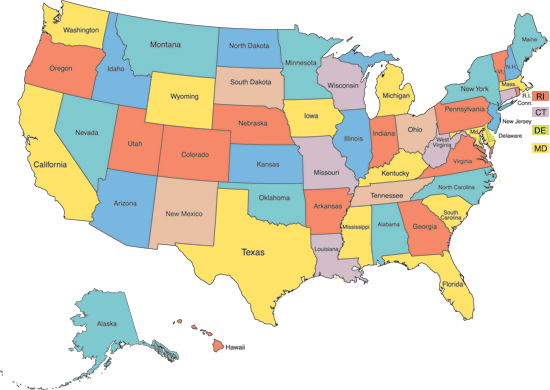 Passport Renewal Offices by state
There are dozens of websites with information on passport renewals but passportrenewaloffices.info is the only collaborative site where visitors are encouraged to share their experiences and give new visitors valuable tips.
---
How to Renew Your Passport
If you've been issued a passport in the past then you are renewing it (whether you have your old one with you or it is already expired). The furst thing you need to determine is how soon you need it.
Routine
Choose routine passport renewal if you can wait AT LEAST 6 weeks to get your passport back.
You can apply for routine passport renewal by regular mail IF:
You have your expired passport and it is undamaged (you must submit it with your application).
Your current passport was issued when you were age 16 or older;
Your current passport was issued within the last 15 years;
Your current passport was issued in your current name or you can legally document your name change with original or certified copy of your marriage certificate or the government-issued document evidencing your legal name change.
Mail the completed application to:
National Passport Processing Center
Post Office Box 90155
Philadelphia, PA 19190-0155
Otherwise you must find an authorized passport acceptance facility by clicking on your state in the map above.
Expedited
For an additional fee, you may request expedited service. Include this fee in your payment. Expedited service is only available in the United States. It is recommended that you use overnight delivery when submitting the application. Include the appropriate overnight delivery fees with your payment.
Write "EXPEDITE" clearly on the outside of the mailing envelope and mail the completed application to:
National Passport Processing Center
Post Office Box 90955
Philadelphia, PA 19190-0955

Expedited at Agency
If you are traveling outside the U.S. in less than 2 weeks or if you need to obtain a foreign visa within 4 weeks schedule an appointment at a passport agency near you. If you have more time it is easier to submit your application at an authorized passport acceptance facility.